About
Since 1994, KIPP – Knowledge Is Power Program – has achieved national attention for its success in putting underserved students on the path to and through college. From its first days as a pair of fifth-grade classrooms in Houston, to its present status as a family of 141 KIPP schools in 31 states and Washington, D.C. serving more than 50,000 students, KIPP has combined simple, proven strategies to deliver an uncompromising education to the children of our nation. In August 2004, responding to the strong need for a local, college-preparatory, public high school, KIPP opened KIPP Houston High School (KHHS), its first KIPP high school in the nation. KHHS is committed to helping students develop the strengthened academic and intellectual skills, knowledge, and character necessary for success in college and life. Success requires mastery of core academic disciplines, as well as critical thinking, self-discipline, organization, self-advocacy, communication, and leadership.
$27,774 Raised
318 Investors

Mohamad Maarouf
Born and raised in the same community that my students live in, I was lucky to have adults in my life that pushed me to be where I am today. Because of my parents and teachers, I can proudly say I am a Duke graduate and TFA alum. I want to be the adult in the life of my students who pushes them, so that their futures are not determined by the zip code they live in.

Anne Marie Norman
Pre-AP and AP Chemistry Teacher/Science Department Chair
I have been teaching in low-income schools for 6 years. I started as a Teach for America Corps member in 2008, and worked at a school in southeast DC in Anacostia for three years. I then joined the KIPP network in Houston, and have been teaching there for three years. I studied Biomedical Engineering at Tulane University, and I earned my Masters of Art in Teaching, with a focus on secondary education, from American University. I am incredibly passionate about teaching science through inquiry and project-based learning and using the content and the skills they learn in chemistry to ensure they are prepared for college and beyond.

Jeff Soller
Physics Teacher
I have been teaching Physics and AP Statistics for two years. I graduated with a degree in Physics and Mathematics from Wabash College. I work with minority high school students to minimize the achievement gap between our country's most and least privileged youth.
Danielle Redman
US History and AP Government Teacher
Hi! I'm Danielle Redman, and I'm a Social Studies teacher at KIPP Houston High School. I've been with KHHS for five years, and have taught ALMOST every subject offered in the Social Studies department. I absolutely adore my students, many of whom come from backgrounds that provide many obstacles to getting to and through college. That's why it's incredibly important to me to help my students achieve their best any way I can.

Isaac Owoyemi
Teacher, Algebra II and Math Models
I have been teaching mathematics at various levels in low-income schools for 15 years. Teaching is my second career by choice. After having worked as an engineer for 10 years, I decided to go back to the classroom to teach the type students I was growing up. I taught 6th through 8th grade math at regular public schools for eight years before joining the charter school system at the high school level to teach Algebra 2. My passion is to help students see the beauty in mathematics and perhaps debunk some of the myths and anxieties students have carried with them for many years. My hope is to awaken the love of mathematics in my students so that they are free to pursue any kind of dreams they may have in life. I love helping students see the unity, connections, and real-life applications that are inherent in mathematical ideas, which make studying mathematics fun! I love using technology tools to guide students to mastery of skills. I have a bachelors degree in electrical engineering and a masters degree in education with focus on curriculum and instruction.

Anthony DeLeon
Teacher
I'm currently in my 7th year of teaching having taught in Miami, FL in the community of Little Haiti for three years teaching AP and general US History, AP Psychology, World History, Inquiry Skills, and Government/Economics. I also spent three years at New Tech High School at Coppell, a national demonstration site for the New Tech Network and 21st century learning. This is where I developed skills facilitating project-based learning, 1:1 learning (technology), and became certified in school design, visioning, and training in project-based learning. While at New Tech, I taught Government/Economics, AP US History, AP English Language, and AP English Literature and was responsible for developing professional development experiences at a school and district-wide level. I'm currently teaching World Geography and Government/Economics at KIPP Houston High School. This is my first year here at KHHS, and I'm looking forward to building on each year and facilitating transformative education.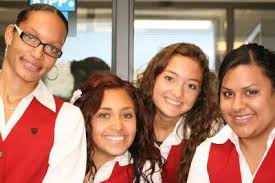 Christopher Spadone
AP US History & AP World History Teacher
Experienced teacher, AP reader, and former Peace Corps volunteer. After teaching private school for twelve years I am glad to be working to help close the achievement gap. My students need resources such as review books and AP prep materials to help them compete with more affluent students.

Terry Lin
math teacher
Terry holds a business degree from the University of Texas at Austin and a master's in Administration and Supervision from the University of Houston. He has taught high school math for six years (two in Round Rock ISD and four at KIPP Houston High School). In his last three years as a classroom teacher, 98% of his freshmen students passed the Algebra I End-of-Course state exam. He also served as the regional teacher lead for Algebra I during those three years. His passion lies not in math though, but in students and has felt very privileged to be on the front lines of transitioning students into high school and to and through college. The most important objective of his course has always been that with a growth mindset, they achieve much more than they ever thought possible. In the upcoming 2015-2016 academic year, he will be continuing his work as an instructional coach at KIPP Houston High School. In his second year of administration, Terry works with teachers of all subjects and seeks to instill that same growth-mindset belief with the teachers he coaches. In addition to his work with teachers, he will also be a grade-level chair for the sophomore class. Outside of work, he enjoys reading, playing volleyball and basketball, and spending time with his wife and two young boys.

Kelly Pfister
Geometry Teacher & 10th Grade Level Chair
Born and raised outside of Detroit, Michigan, I have always had a passion for education. After graduating from of the University of Michigan, where she earned a degree in Secondary Education with a major in Mathematics and a minor in Political Science, I moved to Houston to teach Geometry at Lee High School in HISD. In 2011, I joined the KIPP team to become part of the movement to close the achievement gap in Houston. I really enjoy working with the great educators, students, and parents who make up the KIPP Houston High School family!
Audrey Sampson
Teacher
I graduated from the University of Texas in Austin with a degree in Marketing and a minor in Biology. I was excited to join the KIPP Houston High School family after accepting an offer to join the movement for education equality as a Teach For America corps member in 2012. I teach Geometry and Algebra II with a level of rigor to help prepare all of my 100+ students for college. My experience and influence as a KIPPster has been truly life-changing.

Thomas Goldsbury
Teacher
I am a teacher at KIPP Houston High School. I teach precalculus and AP Calculus AB. Our students are minority students who are economically underprivileged. They work hard to prepare themselves to be successful in the goal to get to and through college.

Elyse Zimmer
STEM Teacher
My love and enthusiasm for science led me to becoming a science teacher. My science classes incorporate 21st Century Skills, specifically the integration of technology and collaboration. I utilize research based and data driven teaching methods, such as, Project Based Learning and guided to full inquiry. Through incorporation of these teaching methods, students experience science as science is in the real world. I acknowledge and embrace the cross discipline nature of science and incorporate writing and history into my classes. Through these methods, I hope that students leave my science classroom with a scientific view of the world which they can use to make informed decisions within their lives.

Ali Nielsen
Biology/Chemistry Teacher
I have been teaching in low-income schools for 4 years. I started at a school in San Antonio, and then I joined the KIPP network in Houston, and have been teaching there for this past year. I studied Biology and Chemistry at Baylor University. I am incredibly passionate about teaching science through inquiry and project-based learning and using the content and the skills they learn in chemistry and biology to ensure they are prepared for college and beyond.

Carol Teeter
Biology Teacher
I studied Animal Science at Texas A&M University, and I am a proud member of the 9th grade team at KIPP Houston High School. I teach Biology to the majority of our freshmen class at KHHS. I am passionate about teaching students about the world around us and how we can use science to further our understanding of delicate ecosystems and every living thing on our planet.

Bekah Stone
Teacher
Hi! I'm Ms. Stone and this is my 5th year teaching. I've had the privilege of teaching a wide variety of students ranging across different subjects, grade levels, and even a different country. Throughout my time teaching, I've come to the conclusion that social studies education is a key to ensuring students become engaged global citizens who are able to think critically and analyze events, both past and present, that impact our globe today.

John Paul Brennan
Biology Teacher & Grade-Level Chair
I joined KIPP Houston High School in August 2011 from Philadelphia, Pennsylvania after spending three years at Maritime Academy Charter High School in the lower northeast where I developed and instructed a rigorous marine science curriculum by which I taught courses in marine biology, marine ecology, physics, and watersheds. In addition to my teaching obligations, I also served as science department chair and led an afterschool enrichment program by which I mentored approximately 20 students daily building integral academic, professional, and social skills. Prior to placement at Maritime, I joined Teach For America in the summer of 2008 for the Mid-Atlantic Region. Besides teaching biology and environmental science at KHHS, I've served for three consecutive years as freshmen grade-level chair, and I'm ecstatic to continue to develop and cultivate a relentless drive for excellence within not only my students, but myself as well as I look forward towards the 2014-2015 academic year. Outside the classroom, I enjoy playing flag football, attending outdoor concerts, and writing nonfiction.

Brad Segal
Music Teacher
Music teacher for 7th -12th grade at KIPP Academy Middle School and KIPP Houston High School. I teach Band, Orchestra, Jazz Ensemble, Guitar and Songwriting.

Tiara Mikell
Theatre Teaching Artist
Theatre/Choir Teaching Artist
KIPP Houston High School: Class of 2016
Student Government
We are fundraising for a senior year trip that will be in 2016. We want to create a trip that will bring our class together one last time before we go our separate ways to college. We would really appreciate it if you could help us in making our trip possible.

Anna Avila-Williams
Athletic Director
I have worked in education for the past nine years serving at-risk and underserved populations. Currently, I work as an Athletic Director and teacher at KIPP Houston High School and work to ensure our athletic department and its athletes are successful on and off the field.
Zeenat Adams
Student
I'm trying to travel to Europe this summer with my school to travel the world and increase my knowledge. I want to learn about the world around me.
Zach Kosmatka
Bio/Chem Teacher
I am a newly Spring 2015 graduate from TCU and am a Teach For America 2015 Corps Member. I am currently working at KIPP Houston High School as a 9th Grade Biology and 10th Grade Chemistry Teacher. As one can imagine, science equipment (and all school supplies) for ~170 students makes for a tight budget (especially on a first-year teacher's salary). Any and all financial support is VERY appreciated. Please keep in mind the students myself and all of us are serving; some barely have enough resources to come to school haven eaten breakfast. Regards, Mr. Kosmatka
Stephon Davis
Dean of Culture
I am the Dean of Culture at KIPP Houston High School. My job is to create a space where students and teachers build and maintain positive relationships, and engage in thought-provoking conversations around controversial topics prevalent in our society. I'm also charged with ensuring students and teachers simultaneously create a thriving, affirming, nurturing school culture not only in classrooms, but also throughout the entire school by challenging, inspiring, and supporting each other throughout the day.
Shannen Garza
College Counselor
Shannen is a College Counselor currently serving seniors at KIPP Houston High School. She has previously worked in college access through organizations such as Genesys Works and Community Family Centers. Her career focus revolves around eliminating barriers for minority, underserved populations in the greater Houston area.

Edson Bazan
12 grade student
I am a student at KIPP Houston High School scheduled to graduate in June of 2016. I've been accepted to several top universities based on my academic profile and I'm looking forward to learning. Books, short stories, and literature in general are my passion.
Lisa Sandifer
9-12 Dance
I am a former National Dance Champion with a Masters degree in Dance that now has a passion for sharing my love for dance with underserved children who would otherwise never get to experience the joy of this amazing art form. I teach 9-12 grade dance in a public charter school system and have been teaching in th e public school system for 16 years since retiring as a professional competitive dancer.

Jen Barnhart
English 1 Teacher
I'm an English 1 teacher who is a huge fan of travel and books. Many of the life lessons I have learned have been through one of those forms which is why I find it important to take learning outside of the classroom whenever possible. I find that the love of reading books has gotten lost on the students I teach in this highly digital world. It is my personal mission to get books back in the hands of my kids and provide them with unique experiences to tour famous literary landmarks.